The hardest working moving company in Birmingham
Are you looking for a moving company in Birmingham, AL to help you with your upcoming move? Motivated Movers is a local moving company that has been serving the Birmingham community since 2008. We're motivated to provide you with an exceptional moving experience – from the first call or click until the last item is home. Our commitment to customer satisfaction is evident in our impressive customer reviews and we encourage you to take the time to explore our reviews.
We know that moving is stressful. Motivated Movers reduces the stress of moving by providing professional movers who are rigorously trained to handle any moving situation and will treat your possessions with care and respect, as if they were their own. Whether you only want several items moved or if you don't want to lift a finger and are looking for a full service moving company, Motivated Movers is standing by to serve you.
So, why wait? Contact us today for a quote and experience the best moving services Birmingham has to offer!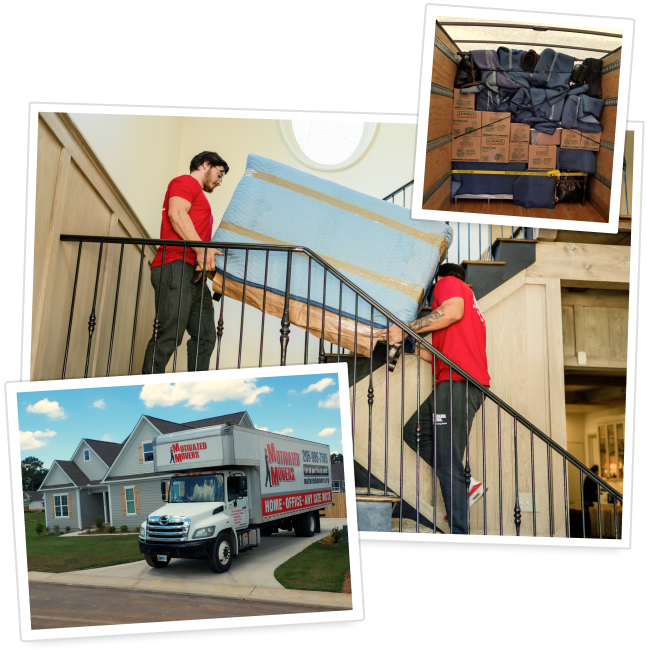 ---
How much does a move cost?
Your quote from Birmingham's most reliable moving company is just a call or click away. We're motivated to provide you with a worry-free moving experience and that starts by contacting us in one of the following ways:
Get a fast, free quote by submitting some information about your move and we will get a personalized quote to you in one business hour or less!
Call your local Birmingham office and one of our team members will gladly assist you. Our friendly and knowledgeable staff is here to answer all your questions and provide you with the information you need to make an informed decision.
Schedule a virtual estimate with one of our estimating specialists to talk one on one. This is a quick, efficient way to get a detailed 

quote

 for your move.
Don't stress, get a quote from Motivated Movers Birmingham. Movers you can trust!
Call us today for a free quote!
205-995-7585
Or use the button below to request a free quote online.
We will get back to you in one business hour or less!
We've Got Great Reviews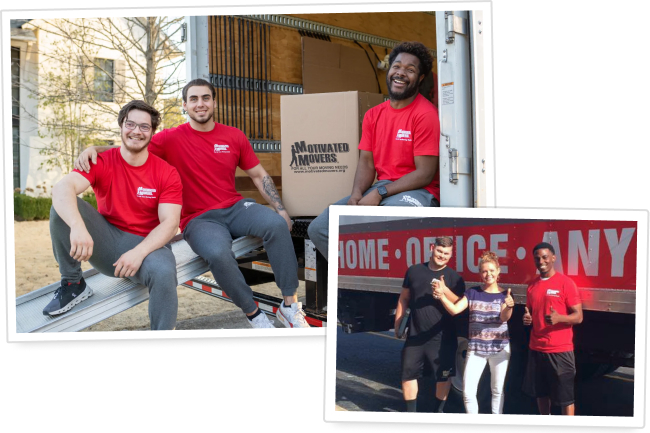 Alex and Joe were the absolute best! Friendly and very professional from the time they arrived to the time they left. Hearing them check in on each other while packing items in different parts of the house was heartwarming. These guys are first class all the way! Editing to add that once the moved items arrived at their destination in Bessemer, Alex and Joe were just as friendly and efficient as they had been when packing and loading the items in Georgia. This is the second time we have used Motivated Movers and would absolutely recommend them to anyone planning their own move. Definitely ask for Alex and Joe!!
in the last week
Honestly, Motivated Movers was not the first company I contacted to help with my move. In hindsight, I'm grateful that A Pair of Individuals and a Vehicle never bothered to get back to me, because I can't imagine a better experience than the one I had with Alex, Jordan and Joe. They arrived exactly when they said they would, took a tour of my home, and then went straight to work. They were efficient, polite, and took great care of my family's stuff. A move that I expected to take 8 hours took 4 instead because of their experience. It's important to note that their speed did NOT translate into carelessness; in fact, every single packed item and piece of furniture arrived completely unscathed. I would absolutely call Motivated Movers for any moving job I had, and I would also really hope that Alex, Jordan and Joe were the guys they sent!
7 months ago
I can't say enough about the professional job Alex, Joe, and Juan did moving us last Wednesday! They were mannerly, responsive to our moving needs, and extremely careful with our belongings in placing them in their truck and unloading them into the new house. They did a remarkable job getting everything needed in one large load. Also, they were able to get large, heavy items into a bedroom from a tight hallway without any issues. I highly recommend Alex, Joe, and Juan with Motivated Movers!
5 months ago
I have used Motivated Movers over 3 times for various moves. I can't say enough great things about this company - outstanding communication and their professionalism. Had my first out-of-area move, and all three movers Jordan, Thomas and Juan did a fantastic job. Moving has never felt smoother and these guys don't skip a beat. They are hardworking and reliable. Not one item arrived damaged and not one wall has a mark. I can't thank these guys enough! Thank you, MM for yet another successful move!!!! If I could give 10 stars, I would. ⭐️⭐️⭐️⭐️⭐️⭐️⭐️⭐️⭐️⭐️
3 months ago
Very courteous and a lot of hustle from start to finish with a lot of stuff that filed two trucks. Whatever we needed and how we wanted it they made it happen and the big thing was smiles the whole time. Respectful and polite from all six guys. It was a great experience from someone who had never hired movers before. They have my highest recommendations. Actually I can't think of one negative thing to say. A great bunch of people from the first call on an estimate to the last guy laying down our welcome mat at our new place !!!
a week ago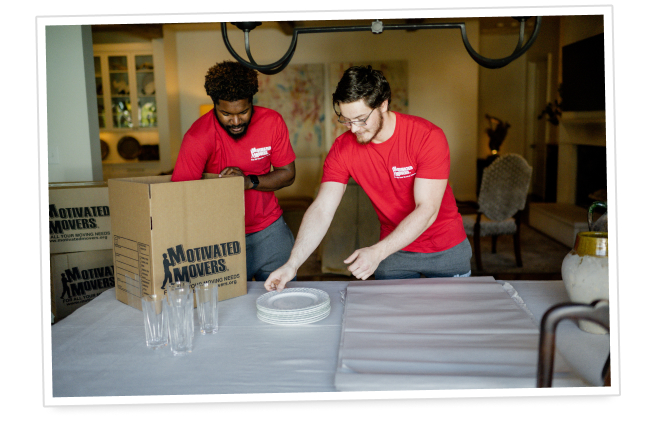 Birmingham's Top Residential Moving Service
We understand moving can be an overwhelming process, and we're motivated to make your move as stress-free as possible. We think our team of highly trained movers and packers make us the best residential moving company in Birmingham, no matter the size. From 1 bedroom apartments to 5+ bedroom estates, we've handled them all, and hope to have the opportunity to serve your residential move as well.
Our team is fully licensed and insured, and we take pride in treating your belongings with the care and respect they deserve, as if they were our own. We understand that each move is unique, and we'll work with you to ensure that your specific needs are met. Our competitive rates and attention to detail allow us to provide you with an accurate and realistic quote, so you won't be caught off guard at the end of your move.
Need a little extra help? Motivated Movers offers packing and unpacking services, as well as supplies for those who prefer to pack themselves. And, if you have large or bulky items, such as a grand piano, gun safe, or grandfather clock, our team is professionally trained to handle these items with care.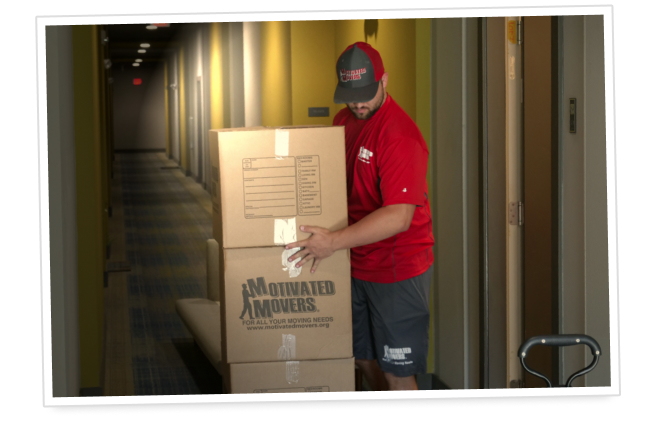 Trustworthy Commercial Moving Services in Birmingham
Hiring the right office moving company is a crucial decision for a business. Motivated Movers office and commercial movers perform your relocation in a seamless, efficient manner to limit downtime and have your team up and running. Our team of experience office movers can handle quick, turnaround moves, workstation disassembly and reassembly, and weekend moving to limit downtime.
Our dedicated moving expert will consult with you to understand your specific needs and establish a moving plan that's right for your business. From commercial relocation to office moving, and everything in between, we have the experience and equipment to get the job done right.
At Motivated Movers, we understand that every business is unique. That's why we offer a range of commercial moving services, including Commercial Relocation, Warehouse Relocation, Furniture, Fixtures and Equipment (FF&E), FF&E Installation, Office Moving, Employee Relocation, Industrial Relocation, Specialty Equipment, and Move Management.
Don't let your next commercial move be a source of regret. Trust Motivated Movers in Birmingham to handle all your commercial moving needs.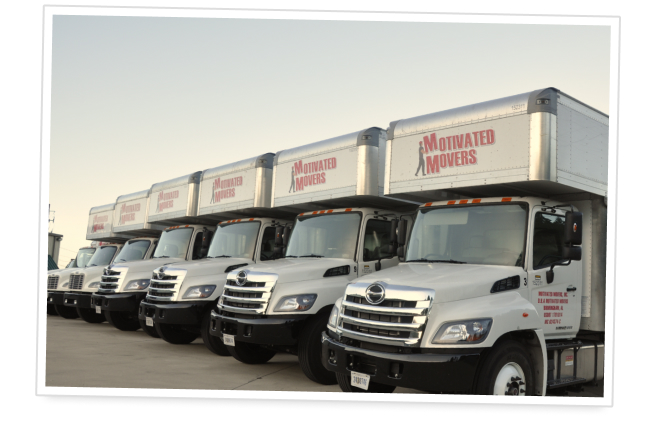 Long Distance Moving Made Easy
Looking to hire long-distance movers? Look no further than Motivated Movers. With our expertise and experience in long-distance moving, we can make the process smooth and stress-free for you.
We understand that moving long distances requires extra planning and consideration to be done right. That's why we take the time to understand your needs and provide a customized quote and plan for your move so you'll know exactly what to expect. From packing and transportation to storage and delivery, we've got you covered every step of the way.
When choosing a moving company for a long-distance move, it's important to consider their experience and expertise. We have years of experience in handling moves just like yours, and we always go above and beyond to make sure your move is a success.
Don't settle for just any moving company. Choose Motivated Movers, Birmingham's best moving company, for your next long-distance move.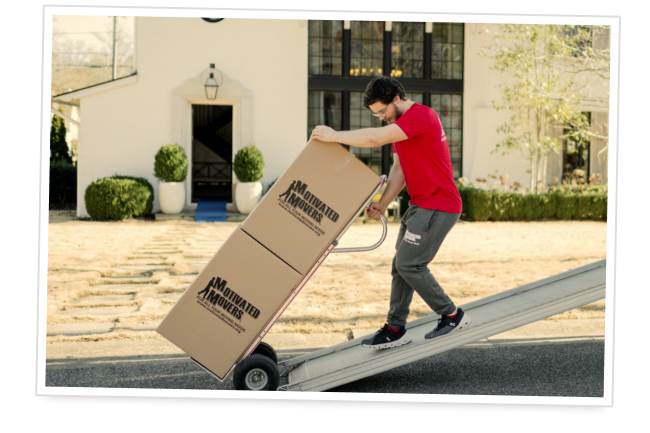 Trusted Moving Services in Homewood, Vestavia Hills, Hoover, and More
Are you considering moving in the Birmingham area? Motivated Movers, Birmingham's trusted moving company, offers comprehensive moving services to a variety of neighborhoods in and around Birmingham, AL. From Homewood to Vestavia Hills, Hoover to Mountain Brook, and Irondale to Trussville, we've got you covered. And, with our convenient location near 280/Meadowbrook, Pelham, Helena, and Alabaster, you can rest assured that your move will be a smooth one with Motivated Movers.
We understand that moving can be stressful, which is why we strive to make the process as easy and stress-free as possible. Our team of professional movers and packers are equipped to handle all of your moving needs, from packing and loading to transportation and unloading. Contact us today for a quote and let us help make your move into, out of, or within Birmingham a success.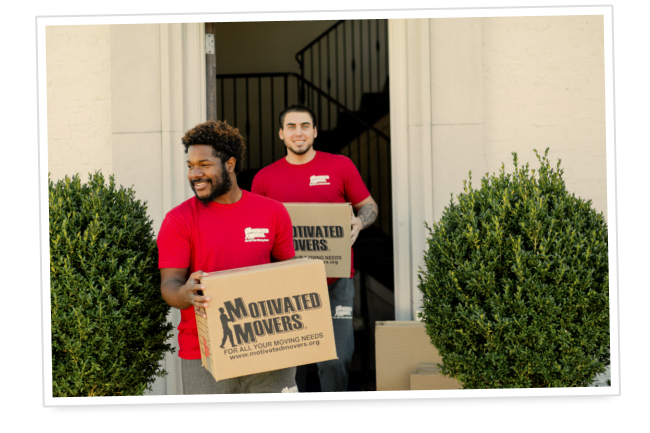 See Why Birmingham Chooses Motivated Movers
Since 2008, customers have chosen Motivated Movers as the Birmingham moving company they know and trust. See what all our local moving customers have to say about Motivated Movers.
Our team of professionally trained movers take pride in handling your belongings with care and respect, ensuring a successful move every time. We offer a variety of services, including residential, long-distance, and commercial moving, as well as packing and unpacking services. Whether you're moving a small studio apartment or a large commercial space, we have the expertise and experience to handle your move with ease.
Don't just take our word for it. Check out some of the outstanding reviews that our customers have left for our Birmingham location. We're confident that you'll see why Motivated Movers is the best choice for your next move.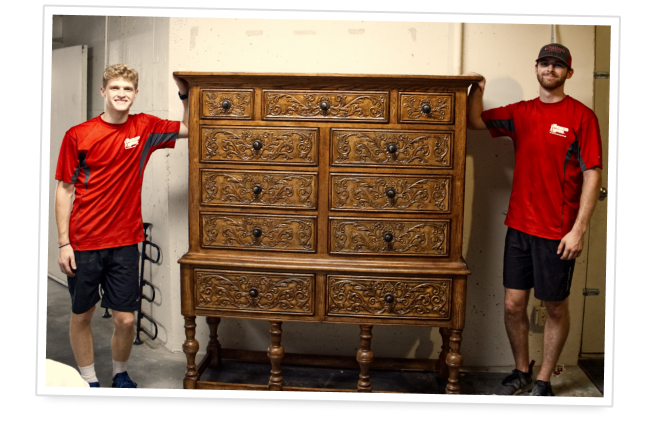 Heavy & Specialty Item Moving
Moving large, heavy items can be quite a challenge, but with Motivated Movers in Birmingham, there's no need to worry. As a premier moving company in Birmingham, AL, we have the knowledge and background to tackle even the most difficult moves. Our expertly trained movers have the capability to transport your belongings, from pianos to gun safes and grandfather clocks, to their new destination in a secure and safe manner. Trust us for dependable moving assistance in Birmingham and make the first step towards a peaceful move.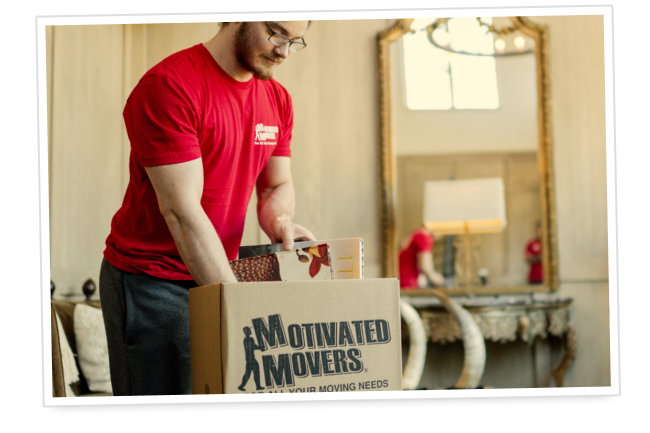 Moving and Packing Supplies
Are you tired of scouring the neighborhood Facebook page looking for packing supplies? Look no further! Motivated Movers, your trusted moving company in Birmingham, offers all the supplies you need for a successful and stress-free move. From boxes of various sizes to specialty boxes, tape, rope, moving pads, packing peanuts, and bubble wrap, we have got you covered. Let us help make your move as easy as possible.